Cork City Library ͚Lady of the Lantern' an Exhibition on the life and legacy of Nano Nagle, was launched recently at the Central Library, Cork City . The brain child of the City Librarian, Mr. Liam Ronayne, the launch was chaired by him and the opening speech was given by Cllr Fergal Dennehy, Deputy Lord Mayor of Cork. Cllr Dennehy gave a comprehensive account of the life of Nano, highlighting the huge contribution she made to the poor of Cork in the 18th Century.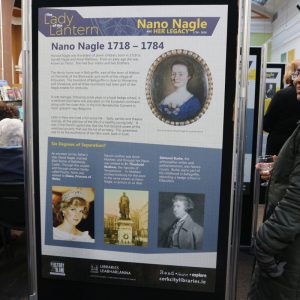 Sr. Bride Given began her talk by mentioning the song by Gregory Porter Take Me to the Alley' and pointed out how apt the song is to the choices Nano made in her life͛s work, as she abandoned the boulevards of Paris to bring hope to the grim alleyways of Cork city.
The Exhibition is meticulously researched and beautifully presented – it will shortly move from the Grand Parade library to the Branch Libraries around the city, and to Mallow library, close to Nanoos birthplace. This is a great opportunity to introduce Nano to the wide variety of people who frequent the Library, many of whom will not be familiar with her story.
Even those who do not enter the building cannot fail to see the vivid image of Nano on the poster on the Grand Parade, alerting passers-by to the event taking place inside. Liam Ronayne and his staff are to be congratulated on their research, design and presentation. The result is a very striking and attractive exhibition.